5 things we should all do more often for a happier, healthier life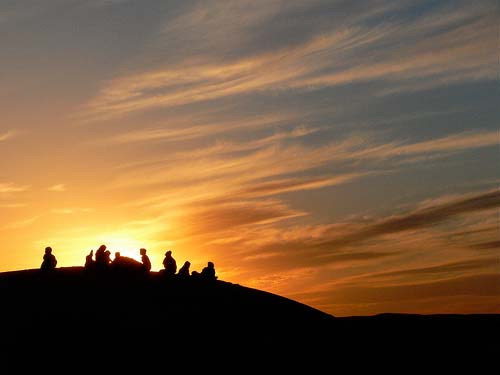 And no, you don't have to set your alarm 30 minutes early, create a calm space in your house surrounded by Buddahs and burn incense at 6am in order to tick this one off your list.
1. Simply repeating a positive affirmation
Simply repeating a positive affirmation for a minute or two when you wake, or practising mindfulness by focusing on your breathing first thing in the morning can lift your mood and leave you smiling. Make a commitment to be present in each moment as much as you can, and you'll quickly discover how much enjoyment you've been missing out on when your mind is overrun by worries, questions and concerns.
2. Start each day with warm water and add a squeeze of lemon
It's easy to head straight to the coffee machine when you've been up since 5am trying in vain to get your child to go the h*ll back to sleep. I know I'm guilty. But take a leaf out of healthy people's book and start your day with a zing, drinking warm water and lemon juice to activate your digestion and rehydrate your body.
3. Eat breakfast
You know, that meal that comes before lunch and dinner the one that's supposed to be the 'most important meal of the day.' I know it's easy to lose sight of brekko what with the school run and everything else you have to do before 9 am, but it really does only take three minutes to boil an egg less to pour a bowl of muesli and throw some berries and yoghurt on top. Just promise me you'll sit down and eat it calmly, not take spoonfuls on the run. Oh, and the reason you need breakfast is that a hungry person isn't all that efficient at, well, anything, really, and by the morning your body needs fuel.
4. Be grateful
It's easy to reel off a list of things we're dissatisfied with the length of time the baby slept last night; the fact there's no petrol in the car; the mountain of washing you need to do I'm sure you have already thought of at least three more things. It's harder, yet far more rewarding, to think about the things we're happy about, or grateful for. So start a mental list, or make a note before bedtime or first thing in the morning, of everything you're thankful for. You'll radiate positivity.
5. Go to bed earlier
There aren't enough hours in the day, right? So we add more at night to make sure everything gets done. If that sounds like you, make yourself a promise to go to bed one hour earlier, once a week, and see how more rested, productive and happier you feel the next day. It'll soon become a habit.
Little sidetrack now... I'm preparing to re design the website. Considering colour scheme quite a bit and needed feedback. What do you think of http://bistroambrosia.ca. Yes, no? Leave me a comment. Sorry! I am a scatterbrain, I am going to get back to it here.
Do hope you found this helpful. I will mention this was suggested by Garry from hebron crc. of course always value suggestions and feedback.
Inspirations For This Article
http://crglass.ca - Once more, many thanks for giving the images.
http://www.umhn.ca - Where would I be with out you?
http://artuary.ca - Use these people on a regular basis.

Posted in Other Health and Medical Post Date 01/19/2015

---